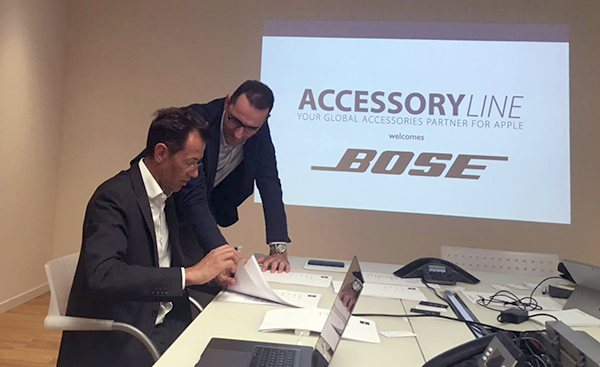 Venice, Italy, 1st July, 2018 - Accessory Line srl, the leader in the distribution of accessories for the Apple market in Europe, is pleased to announce its appointment as the sole distributor for Bose consumer audio products to the Apple reseller channel in Europe.
Beginning in July 2018, Apple® Premium Resellers and Apple Authorised Resellers in Austria, Belgium, Denmark, Finland, France, Germany, Ireland, Italy, Luxembourg, Netherlands, Norway, Poland, Sweden, Switzerland and the UK will be able to apply to Accessory Line to sell the full range of Bose consumer audio products, including the iconic Bose QuietComfort® 35 Acoustic Noise Cancelling® headphones and Bose Soundlink® Revolve Bluetooth® speakers.
"The opportunity to work with Bose is a natural extension of the Accessory Line razor-like focus on the European Apple reseller channel", said Guido Borso, Founder and CEO of Accessory Line. "The respect which we and our customers have for Bose is immense. We are deeply honoured to have this opportunity to bring the power, innovation and creativity behind the Bose product range to our APR and AAR customers across Europe."
Accessory Line is fully committed to maintaining the high standards customers have come to expect from Bose, whilst offering additional flexibility for resellers. APRs and AARs already certified by Bose can immediately apply to source Bose products from Accessory Line. Other APRs and AARs can apply for certification through Accessory Line.
ACCESSORY LINE srl
, is a privately-held European company founded in 1989, and head-quartered in Treviso, Venice, Italy. Accessory Line is the leader in the distribution and production of accessories for the Apple market in Europe, the Middle East, India and Africa. Accessory Line brings Italian flair from Veneto – part of Europe's number one region by industrial GDP – with a unique focus on accessories, backed by 30 years' experience supplying the Apple channel.

BOSE CORPORATION
was founded in 1964 by Dr. Amar G. Bose, then a professor of electrical engineering at the Massachusetts Institute of Technology. Today, the company is driven by its founding principles, investing in long-term research with one fundamental goal: to develop new technologies with real customer benefits. Bose innovations have spanned decades and industries, creating and transforming categories in audio and beyond. Bose products for the home, in the car, on the go and in public spaces have become iconic, changing the way people listen to music.
Bose Corporation is privately held, and thanks to Dr. Bose, MIT is the majority shareholder in the company. Bose's spirit of invention, passion for excellence, and commitment to extraordinary experiences can be found around the world – everywhere Bose does business.
Press enquiries to: press@accline.it
Dealer enquiries to: bose@accline.it


​

Apple is a trademark of Apple Inc., registered in the U.S. and other countries.
Ufficio stampa Accessory Line Srl
www.accessoryline.it - press@accline.it